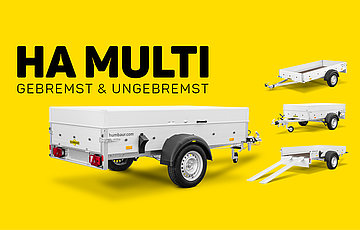 12/07/2020
The Humbaur HA Multitransporter is now even more versatile
The Gersthofen-based trailer and box body specialist places great im-portance on the reliability and functionality of its vehicles. It therefore goes without saying that Humbaur is continuously striving to optimise and improve the products in its range. After all, hard work is the key to success. In an effort to improve the versatility of its HA Multitransporter, the company has given this tried-and-tested single-axle trailer a makeover.
For furniture, garden clippings and more
The HA Multitransporter is a reliable partner. Until now, the trailer has most commonly been used to transport motorcycles and ride-on mowers. However, the trailer has been given a makeover — the new version will be available from January 2021 and boasts taller side walls. This opens up an even wider range of applications for the trailer. It can now also be used to transport boxes for moving home, furniture and garden cuttings. The height of the side walls has increased from 150 mm to 300 mm. Together with the other benefits of the product, such as the range of options for fitting drive-up ramps, the HA Multitransporter is therefore ideal for anyone who owns a home, residential property or garden and who is looking for a flexible and versatile trailer.
Additional benefits of the HA Multitransporter
In addition to the increased height of the side walls, the trailer also boasts a galvanised V-drawbar and a 15-mm floor plate thickness. Six integrated tie-down hoops ensure that the load is optimally secured. Corner stanchions with a variety of insert options, as well a range of options for fitting drive-up ramps, make this trailer perfect for a large number of applications. This passenger vehicle trailer is perfectly equipped to take on any challenge, especially when used in conjunction with the accessories on offer, which include a wood/aluminium cover (available with and without a railing), drive-up ramps and tarpaulins (available with and without a frame). Clever details such as the new ball head coupling with yellow Softdock make the trailer particularly easy to use in real life applications.
Ball head coupling with yellow Softdock — available free of charge on all unbraked trailers
From January 2021, Humbaur will be fitting a ball head coupling with yellow Softdock to all of its unbraked trailers as standard, with the aim of making these trailers easier to use and further improving handling. It doesn't just look great — the Soft-Dock has a soft, cushioning surface that protects the rear of the towing vehicle from any damage that may occur as a result of minor bumps and scrapes during the coupling and uncoupling process. This special feature comes as standard and is completely free of charge.
Both the HA Multitransporter's makeover and the expansion of the standard features demonstrates Humbaur's commitment to improving its products. The trailer and box body specialist keeps its ear to the ground, regularly getting feedback from its dealers and customers. The company uses this feedback to make its products even better. Even more flexible, even more versatile and even easier and more practical to use.
You can find out more about Humbaur single-axle trailers on our website at https://www.humbaur.com/en/trailer/single-axle-trailers/.
Humbaur Press Officer
Irina Lew
Corporate Communications Manager
Telephone +49 821 24929-532
i.lew@humbaur.com
Humbaur makes it happen
HUMBAUR is one of the largest companies in the world of trailer and vehicle bodies. The owner-managed family company offers around 420 different trailer models as standard for both commercial and private customers, as well as 230 models in the FlexBox box body range. Its 600 employees produce around 60,000 trailers each year. The expert in trailers and transport solutions with total weights ranging from 750 kg to 55 t has a national and international presence, and also manufactures customised solutions. Over 500 dealers in Germany and 26 other European countries offer local contact partners. More at: www.humbaur.com