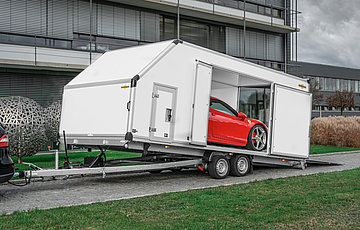 12/03/2020
The Humbaur MTKB 355724-22 — perfect for safely and conveniently transporting vehicles
It's not enough to know that your prized possession is well secured when it's being transported. It should be easy to manually load and unload your vehicle from the trailer, and your cargo should be well protected from wind, weather, salt and theft. The new Humbaur MTKB 355724-22 is a reliable vehicle transporter that fulfils all of these requi-rements. This box trailer has a solid design and stands out thanks to its sophisticated details.
Fast to load and very secure — ideal for sports cars or classic cars
Whether you're on the way to a race track or a classic car meet, or going on holiday: If you don't want to drive your sports car or vintage vehicle there yourself, you'll need a reliable trailer to get it there. The Humbaur MTKB 355724-22 provides excellent protection for the vehicle inside: It's completely closed off to fully protect your vehicle from prying eyes, rain, snow or salt. But that's not all that this reliable vehicle transporter can do.
Optimal load securing and convenience
There are two stand rails inside the trailer to ensure that your expensive cargo can also be well secured. Together with the wheel stops and lashing straps, this ensures safe and, above all, regulation-compliant load securing. The box body is constructed from GFRP sandwich panels and is entirely closed off. The stand rails are also completely covered, so neither splash water nor salt can enter the loading space. This prevents the vehicle becoming dirty or being exposed to corrosive road salt.
The robust aluminium ramp of the MTKB has an ultra-flat 6.5° ramp angle, allowing you to easily load sports cars with lowered suspension. The MTKB is also suitable for securely transporting three-wheel vehicles. These features make the loading process is especially convenient, even in narrow spaces. In addition to the rear access door, the trailer features double-wing doors on both sides, allowing you to load and secure your vehicle even in restricted spaces. So even if you're in a courtyard or on the roadside, you can still quickly and easily load your vehicle into the trailer.
Sophisticated, practical, unique — the Humbaur MTKB 355724-22
This tilting car transporter carries a permissible total weight of 3500 kg so the payload is more than 2000 kg. The interior has a length of 5715 mm, a width of 2335 mm and a height of 2085 mm, so you can use the trailer to transport a wide variety of vehicles: Whether it's a sports car or classic car, you can keep your vehicle dry and secure while you transport it from A to B. Thanks to a clearance width of 2290 cm and clearance height of 2065 mm, the MTKB 355724-22 can be used for a wide variety of applications, even with vans or SUVs.
The trailer is completely closed off, making it ideal for transporting high-quality vehicles. The roof of this car transporter has an incline of 45° for optimal aerodynamic properties. The trailer is makes very little noise as you drive, even if you take advantage of the permitted speed of 100 km/h. An electric cable winch also enables you to load vehicles that cannot or should not be driven. The winch can also be adjusted transversely to allow it to be precisely adapted to the cargo.
The MTKB: Important details at a glance
Stand rails approx. 700 mm wide for perfect load securing
Aluminium folding ramp with very low ramp angle
Double-wing doors on both sides for loading and unloading
Front access door for fastening the wheel lashing straps
Rear access door for fastening the wheel lashing straps
Permitted to travel at 100 km/h
The Humbaur MTKB 355724-22 is a stylish, high-quality car transporter that is designed for transporting high-value cars. The transporter has been specifically designed so that the dimensions offer sufficient space for conventional sports cars and classic cars while remaining relatively compact. The double-wing doors and access doors make it easy to secure the cargo, even in confined spaces. It's easy to manually secure the vehicle using the lashing straps and transport it to the required destination. The vehicle is well protected from all weather conditions. Development has been worthwhile — this car transporter will soon go into series production.
Humbaur makes it happen
HUMBAUR is one of the largest companies in the world of trailer and vehicle bodies. The owner-managed family company offers around 420 different trailer models as standard for both commercial and private customers, as well as 230 models in the FlexBox box body range. Its 600 employees produce around 60,000 trailers each year. The expert in trailers and transport solutions with total weights ranging from 750 kg to 55 t has a national and international presence, and also manufactures customised solutions. Over 500 dealers in Germany and 26 other European countries offer local contact partners. More at: www.humbaur.com