Vehicle transport trailer HAK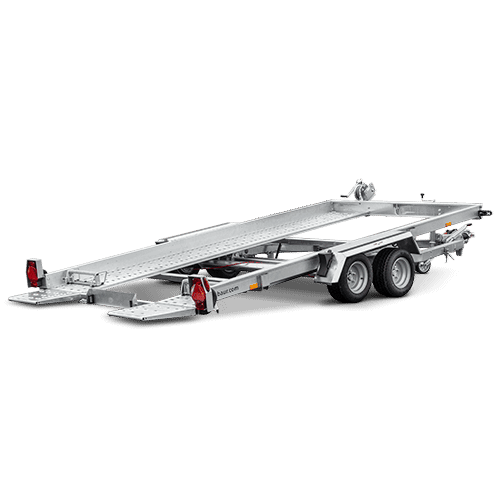 HAK model series
Wider, flatter, more comfortable
i
V drawbar, hot-dip galvanised
i
Chassis and frame are hot-dip galvanised
i
13-pin plug and reversing light
i
Lashing options at the side perforations and stand rails.
i
Tipping platform with shock absorbers, mechanically tilting.
i
Cable winch frame and tackle with winch and rope.
i
Automatic jockey wheel, centrally mounted.
i
Perforated stand rails for a safe transport.
HAK vehicle transport trailers have an interior width of 2005 mm, making them ideal for transporting a range of different vehicles. The tipping platform with shock absorbers is tilted mechanically, creating a shallow ramp angle to allow cars and other vehicles to be loaded easily. The depth-adjustable cable winch frame with cable winch and rope is also available for assistance with loading. The transported vehicle is secured using the lashing options provided by the perforations in the side rails and in the standing rails. It's not just the sturdy construction that gives the HAK vehicle transport trailer such longevity - the chassis, frame and V-drawbar have all been hot-dip galvanised for maximum robustness. An automatic jockey wheel, a 13-pin trailer connector and a reversing light are also included in the standard equipment.
The vehicle transport trailer HAK in detail:
V drawbar, hot-dip galvanised
Chassis and frame are hot-dip galvanised
13-pin plug and reversing light
Lashing options
Tipping platform with shock absorbers, mechanically tilting
Cable winch frame and tackle with winch and rope
Automatic jockey wheel
Perforated stand rails for a safe transport
Technical data
Car transporter, wheels out
Inner height

130 mm
Total height

930 mm
Inner length

4.060 mm
Total length

5.965 mm
Inner width

2.005 mm
Total width

2.495 mm
Car transporter, wheels out Standard equipment
Hot-dip galvanised v-shaped coupling combined with longitudinal beam
Hot-dip galvanised chassis and frame
13-pin plug and reversing light
Lashing possible using side textured surfaces and standing rails
Cable winch castors with cable winch and towing cable
Jockey wheel
Tipping platform with shock absorbers, mechanically tilting
Car transporter, wheels out

Models

Permissible gross weight in kg

2000

2500

3000

Load capacity in kg

1360

1812

2312

Body dimensions in mm (LxWxH)

5965 x 2495 x 930

5965 x 2495 x 930

5965 x 2495 x 930

Internal dimensions in mm (LxWxH)

4060 x 2005 x 130

4060 x 2005 x 130

4060 x 2005 x 130

Load height in mm

430

430

430

Tyre size in inches

10

10

10
Permissible gross weight in kg
2000
braked
Body dimensions in mm (LxWxH)
5965 x 2495 x 930
Tyre size in inches
10
Internal dimensions in mm (LxWxH)
4060 x 2005 x 130
Load capacity in kg
1360
Permissible gross weight in kg
2500
braked
Body dimensions in mm (LxWxH)
5965 x 2495 x 930
Tyre size in inches
10
Internal dimensions in mm (LxWxH)
4060 x 2005 x 130
Load capacity in kg
1812
Permissible gross weight in kg
3000
braked
Body dimensions in mm (LxWxH)
5965 x 2495 x 930
Tyre size in inches
10
Internal dimensions in mm (LxWxH)
4060 x 2005 x 130
Load capacity in kg
2312