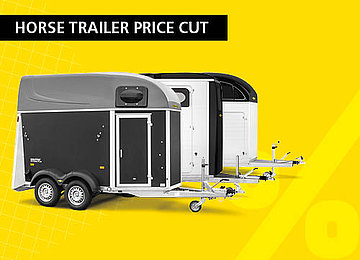 01/15/2020
Reduced prices on horse trailers — act now!
Humbaur has been offering new prices for its horse trailers since 9 January 2020. With lower prices and a streamlined model range, we want to make it even easier for you to choose the right trailer. Because when you purchase our products, you don't just get quality — you get comfort and safety as well. Our durable trailer models are designed to fit your lifestyle and your needs, no matter whether you prefer a classic design or something more luxurious.
Streamlined model range for greater clarity
To make our range of horse trailers easier to understand, we removed models with lower sales figures at the turn of the year. These include the following trailer variants: all Balios models, Notos Xtra Basic, Notos Xtra Eco, Xanthos Spirit, Xanthos Spirit Plus, Xanthos Spirit Plus Aero.
New year, new prices
You can always expect quality and comfort from us. All of our horse trailer models are manufactured with great care and high-quality materials at our plant in Gersthofen, Germany. The equipment variants can be adapted to best meet your requirements.
We want to win over our customers with the range of features we offer and a fair price-performance ratio. To live up to what we say, we have significantly reduced the price of our horse trailer models as of 9 January 2020 — and those prices are here to stay.
Find the right trailer for your horses
Our models are tailored to you and your horses — and your budget. You can safely transport your animals with our lower-priced, entry-level models, but if you're looking for more equipment and a little extra comfort, our aesthetically designed top-class trailers offer everything that an equine enthusiast could possibly want. This ranges from the walk-in saddle compartment with plenty of storage space to the feed and water point for your horses. This allows your animals to wait safely and comfortably until needed. Discover our extensive range of now.horse trailer equipment ».
Keep an eye on Humbaur trailers — we have a reason to celebrate
This year, our one millionth trailer will leave the factory. If that's not a reason to celebrate, what is? Watch out for some surprises that we have in store for you to commemorate this milestone.
Humbaur Press Officer
Irina Lew
Corporate Communications Manager
Telephone +49 821 24929-532
i.lew@humbaur.com
Humbaur makes it happen
HUMBAUR is one of the largest companies in the world of trailer and vehicle bodies. The owner-managed family company offers around 420 different trailer models as standard for both commercial and private customers, as well as 230 models in the FlexBox box body range. Its 600 employees produce around 60,000 trailers each year. The expert in trailers and transport solutions with total weights ranging from 750 kg to 55 t has a national and international presence, and also manufactures customised solutions. Over 500 dealers in Germany and 26 other European countries offer local contact partners. More at: www.humbaur.com