Steely DK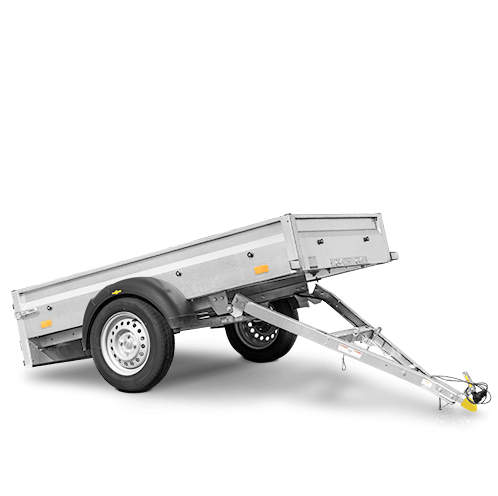 The space saver
with foldable V drawbar
i
Drop sides made of hot- dip galvanised, canted steel plate.
i
Tailgate with tension locks
i
4 tie-rings on the inside of the drop sides.
i
Pre-mounted attachment buttons for attaching the tarpaulin to the drop sides.
i
Humbaur multifunction lighting is integrated into the underride protection.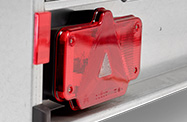 i
Corner stanchions with insert option
i
V-drawbar foldable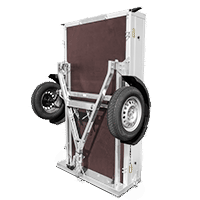 i
Tension lock for securing the foldable drawbar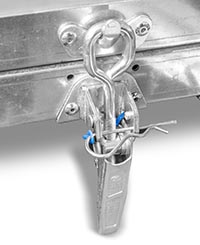 i
The Soft-Dock has a soft, cushioning surface that provides optimal damage protection for the rear of the vehicle.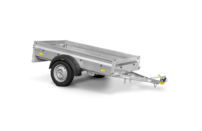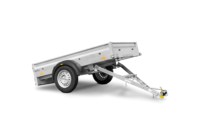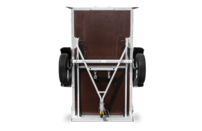 Small, nimble, versatile: The Steely DK is more than just an introduction to the world of Humbaur transportation solutions - the car trailer is also a real space-saver thanks to its folding drawbar. As it can be positioned vertically with the drawbar folded down, the trailer can be stored against the garage wall, for example, and easily accessed at any time. The Steely DK is a practical transportation companion for personal use that will help you move almost anything - from tools and building materials to garden waste, crates and boxes. The trailer can also be fitted with a side plate extension, H-frame, flat cover or tarpaulin and frame, making light work of the most challenging transportation scenarios. Inside the trailer, four tie rings on the side walls can be used to secure cargo. The side walls are also equipped with pre-assembled fastening buttons for attaching tarpaulins.
13-pin plug
Floor plate 9 mm thick
Drop sides made of hot- dip galvanised, canted steel plate
Tailgate with tension locks
4 tie-rings on the inside of the drop sides
Pre-mounted attachment buttons
Multifunction lighting
Corner stanchions with insert option
V-drawbar foldable
Tension lock for securing the foldable drawbar
All unbraked trailers with a ball head coupling with Soft-Dock as standard
Technical data
Steely DK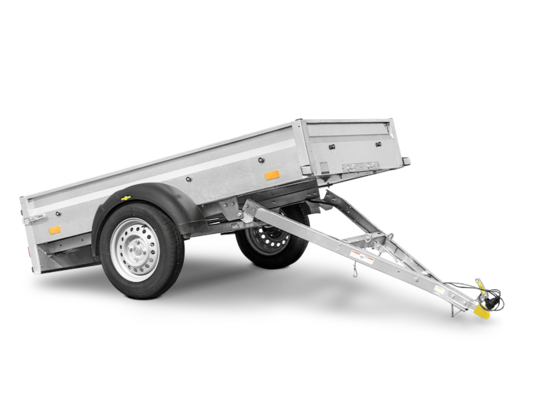 Inner height

300 mm
Total height

805 mm
Inner length

2.050 mm
Total length

2.960 mm
Inner width

1.095 mm
Total width

1.545 mm
Steely DK Standard equipment
13-pin plug
9 mm thick base plate
Drop-sides made of hot-dip galvanised sheet steel
Tailgate with toggle locks
4 tie rings on the inside of the drop-sides
Pre-assembled fastening buttons for tarpaulin attachment to the drop-sides
Humbaur multifuntional lights integrated in underride barrier
Corner stanchions with plug-in option
galvanised v-shaped coupling for tipping
Steely DK

Models

Permissible gross weight in kg

750

Body dimensions in mm (LxWxH)

2960 x 1545 x 805

Internal dimensions in mm (LxWxH)

2050 x 1095 x 300
Permissible gross weight in kg
750
braked
Body dimensions in mm (LxWxH)
2960 x 1545 x 805
Tyre size in inches
13
Internal dimensions in mm (LxWxH)
2050 x 1095 x 300
Load capacity in kg
615