Single axle trailer HA Multi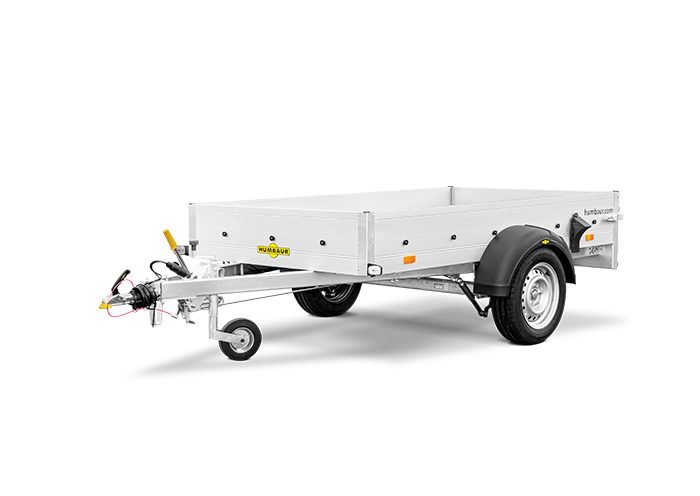 HA Multi
The versatile transport aid
i
Galavnised v-shaped drawbar
i
Drop sides made of anodised, double-walled aluminium profiles.
i
6 lashing rings integrated in the side walls, traction force 400kg per ring, Dekra tested
i
Humbaur multifunction lighting integrated into underride protection.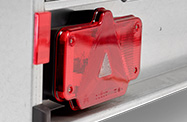 i
Insertion option for drive-on ramps
i
Corner stanchions with insert option
i
Round buttons for tarpaulin or load securing net
i
Available as an optional accessory.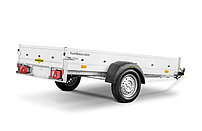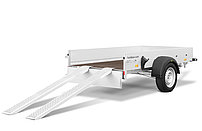 The HA Multitransporter is a car-trailer suitable for a wide range of applications. The box trailer has a fixed front wall and side walls made of anodised, double-walled aluminium profiles with a height of 300 mm. The tailgate is equipped with toggle-type fasteners. The loading area of the flatbed trailer measures 2510 x 1310 mm. Three pairs of tie-down hoops are recessed into the side walls for securing the load. The tensile force is 400 kg per hoop. The HA Multitransporter can be equipped in a variety of ways thanks to features such as its corner stanchions with insert options, which can be used to fit additional side-wall elements 30 cm in size. A flat cover and an aluminium cover are available as accessories to provide protection from above. A motorcycle rail can also be retrofitted as an accessory and the option to fit loading planks is planned as a new standard feature of the series. The 15-mm thick, weather-resistant floor plate is sufficiently robust for any application. The HA Multitransporter is available in two variants: without a brake, with a permissible maximum weight of 750 kg, and with a brake and a permissible maximum weight of 1300 kg. The version with a brake includes a jockey wheel as standard.
Galavnised v-shaped drawbar
13 pin plug
Floor plate 15 mm thick
Drop sides made of aluminium profiles
6 lashing rings integrated in the side walls
Multifunction lighting integrated into underride protection
Insertion option for drive-on ramps
Corner stanchions with insert option
Round buttons
Aluminum lid
Technical data
HA Multi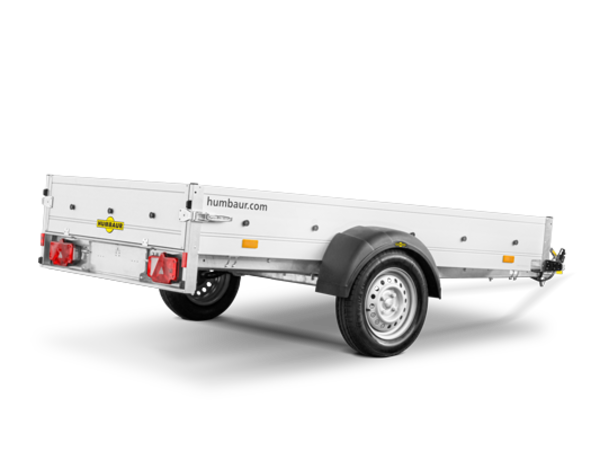 Inner height

300 mm
Total height

800 mm
Inner length

2.510 mm
Total length

3.585 mm
Inner width

1.310 mm
Total width

1.760 mm
HA Multi Standard equipment
Galavnised v-shaped drawbar
13 pin plug and reversing light from 751kg (gross weight)
Side walls made of anodised double-walled aluminum profiles
6 lashing rings integrated in the side walls, traction force 400kg per ring, Dekra tested
Humbaur lighting integrated in the underrun protection
Insertion of the loading planks possible
Possibiltiy to insert corner stanchions
HA Multi

Models

Body dimensions in mm (LxWxH)

3585 x 1760 x 800

3765 x 1800 x 905

3765 x 1800 x 905

Internal dimensions in mm (LxWxH)

2510 x 1310 x 300

2510 x 1310 x 300

2510 x 1310 x 300

Load height in mm

500

530

530

Tyre size in inches

13

14

14
Permissible gross weight in kg
750
braked
Body dimensions in mm (LxWxH)
3585 x 1760 x 800
Tyre size in inches
13
Internal dimensions in mm (LxWxH)
2510 x 1310 x 300
Load capacity in kg
592
Permissible gross weight in kg
1300
braked
Body dimensions in mm (LxWxH)
3765 x 1800 x 905
Tyre size in inches
14
Internal dimensions in mm (LxWxH)
2510 x 1310 x 300
Load capacity in kg
1060
Permissible gross weight in kg
1300
braked
Body dimensions in mm (LxWxH)
3765 x 1800 x 905
Tyre size in inches
14
Internal dimensions in mm (LxWxH)
2510 x 1310 x 300
Load capacity in kg
1055