Vehicle transporter FTK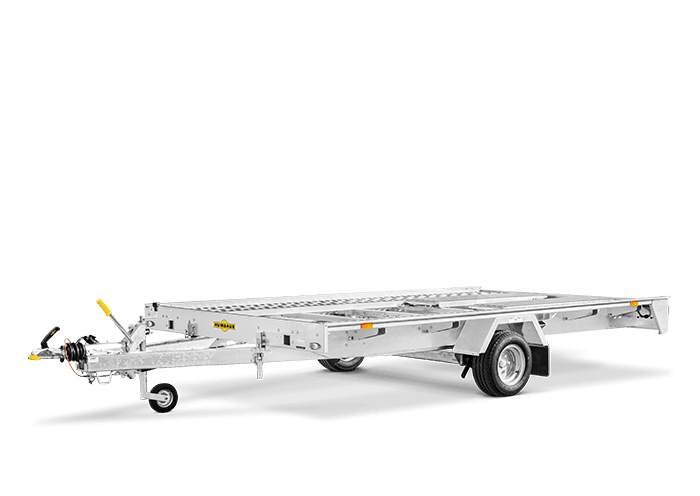 Compact, indestructible and flexible
Specialised in the transport of small vehicles
i
Chassis, bolted and galvanised
i
Galvanised tipping platform
i
Tipping platform with shock absorbers, mechanically tilting.
i
V drawbar, hot-dip galvanised
i
Optional cable winch frame and tackle with cable winch
i
Optional wheel chock on the adjustable stand rails
i
Humbaur multifunctional lighting with reversing light.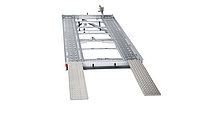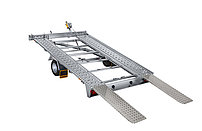 Transport your car secure and comfortable with the new tiltable car transporter FTK by Humbaur. The FTK offers you the benefits of tiltable car transporters in the compact class. The trailer is suited perfectly for enterprises in the car repair sector, but also for private citizens, who want to transport their compact car comfortably, like e.g. the Smart or the VW Golf. The new Humbaur FTK has all the benefits of tiltable car transporters - for the first time also in the compact class. You can tilt the transport platform via shock absorbers mechanically und load your car on the trailer via the serrated steel loading ramps effortlessly. The optionally obtainable cable winch and the hydraulic system for tilting alleviate the loading additionally. Because of four available variants with a loading capacity as far as two tons (model with two axes) and different available proportions, it is possible to choose a perfectly suited model for your needs. Thanks to its elaborated and solid construction, you can utilize the effective surface in an optimal way and enjoy the advantages of a low loading angle. Galvanized components and a lot of possibilities to secure your load confirm the quality in every detail of Humbaur trailers.
Chassis, bolted and galvanised
Galvanised tipping platform
Tipping platform with shock absorbers, mechanically tilting
Aluminium drive-on ramps
V drawbar, hot-dip galvanised
13-pin plug
Jockey wheel
Optional cable winch frame and tackle with cable winch
Optional wheel chock on the adjustable stand rails
Humbaur multifunctional lighting with reversing light
Technical data
Car transporter, tiltable, single axle
Inner height

50 mm
Total height

630 mm
Inner length

3.500 mm
Total length

4.880 mm
Inner width

2.000 mm
Total width

2.050 mm
Car transporter, tiltable, single axle Standard equipment
Screwed and galvanised chassis and frame
Galvanised tilting platform
Tilting plattform mechanically tiltable due to shock absorbers
Steel loading skids
Hot-dip galvanised v-shaped coupling
13-pin plug and reversing light
Jockey wheel
Car transporter, tiltable, single axle

Models

Permissible gross weight in kg

1300

1500

Load capacity in kg

860

1060

Body dimensions in mm (LxWxH)

4880 x 2050 x 630

4880 x 2050 x 630

Internal dimensions in mm (LxWxH)

3500 x 2000 x 50

3500 x 2000 x 50
Permissible gross weight in kg
1300
braked
Body dimensions in mm (LxWxH)
4880 x 2050 x 630
Tyre size in inches
10
Internal dimensions in mm (LxWxH)
3500 x 2000 x 50
Load capacity in kg
860
Permissible gross weight in kg
1500
braked
Body dimensions in mm (LxWxH)
4880 x 2050 x 630
Tyre size in inches
10
Internal dimensions in mm (LxWxH)
3500 x 2000 x 50
Load capacity in kg
1060