Wheels in tiltbed HA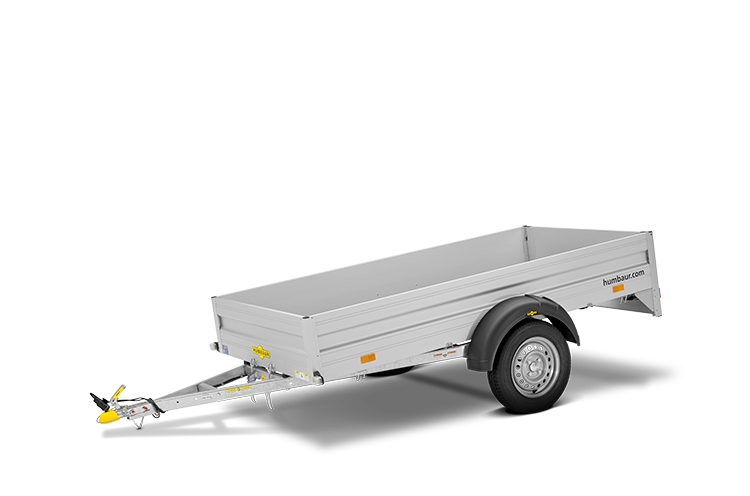 Movable helper
With tilt function for extended application possibilities
i
V drawbar, hot-dip galvanised
i
13-pin plug and reversing light
i
Drop sides made of anodised, double-walled aluminium profiles.
i
Back flap with recessed locks.
i
Flap with recessed locks (optional)
i
Tie-down rings (4 units up to 2050 mm / 6 units up to 2510 mm box length) integrated into the drop sides (only possible with 350 mm drop sides), tractive force 400 kg per lashing ring, Dekra-tested.


i
Only at the HA tiltable: platform with shock absorber support for tilting, tilting angle at rear 18°, reinforced tailgate and reinforced underride protection at HA 132513.
i
Humbaur multifunction lighting is integrated into the underride protection.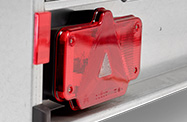 i
Corner stanchions with insert option
i
The Soft-Dock has a soft, cushioning surface that provides optimal damage protection for the rear of the vehicle.
Gardening equipment and motorcycles can, for example, be transported more easily if the trailer tilts. For these and similar applications we equipped the HA flatbed trailer with a tilting body in this variant. A shock absorber simplifies the tilting process. Reinforcing ribs and additional hinges at the rear flap, for example, make the trailer particularly sturdy.
V drawbar, hot-dip galvanised
13-pin plug and reversing light
Floor plate 15 mm thick
Drop sides made of aluminium profiles
Back flap with recessed locks
Flap with recessed locks (optional)
Tie-down rings integrated into the drop sides
Platform with shock absorber support for tilting
Multifunction lighting
Corner stanchions with insert option
All unbraked trailers with a ball head coupling with Soft-Dock as standard
Technical data
Aluminium tiltbed
Inner height

350 mm
Total height

865 mm
Inner length

2.510 mm
Total length

3.580 mm
Inner width

1.310 mm
Total width

1.760 mm
Aluminium tiltbed Standard equipment
Hot-dip galvanised v-shaped coupling
13-pin plug, for max. gross above 751 kg with reversing light
15 mm thick base plate
Side panels and gates made of double-walled anodised aluminium
Fixed headboard and flap(s) with sunk-in closings
Lashing rings (6 units) integrated in sideboard profiles, traction force 400 kg per ring, DEKRA tested
Platform with shock absorbers for tipping
Humbaur multifuntional lights integrated in underride barrier
Aluminium tiltbed

Models

Permissible gross weight in kg

750

1300

Load capacity in kg

577

1046

Body dimensions in mm (LxWxH)

3580 x 1760 x 865

3795 x 1800 x 915

Internal dimensions in mm (LxWxH)

2510 x 1310 x 350

2510 x 1310 x 350
Permissible gross weight in kg
750
braked
Body dimensions in mm (LxWxH)
3580 x 1760 x 865
Tyre size in inches
13
Internal dimensions in mm (LxWxH)
2510 x 1310 x 350
Load capacity in kg
577
Permissible gross weight in kg
1300
braked
Body dimensions in mm (LxWxH)
3795 x 1800 x 915
Tyre size in inches
14
Internal dimensions in mm (LxWxH)
2510 x 1310 x 350
Load capacity in kg
1046