Single axle trailer HA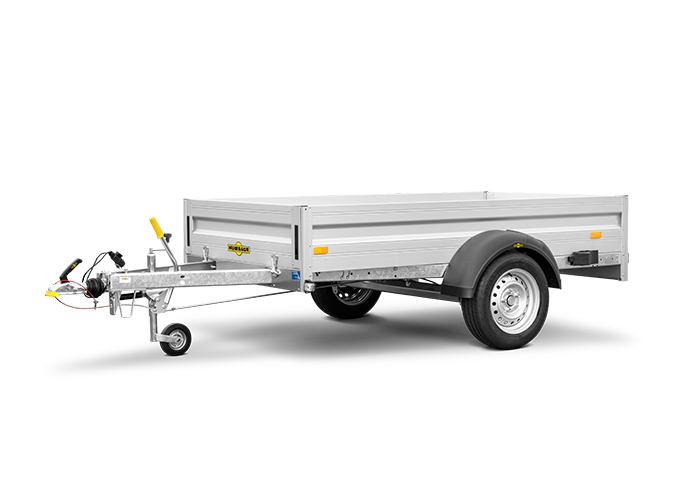 The universal work horse
versatile and robust
i
V drawbar, hot-dip galvanised
i
13-pin plug and reversing light
i
Drop sides made of anodised, double-walled aluminium profiles.
i
Back flap with recessed locks.
i
Flap with recessed locks (optional)
i
Tie-down rings (4 units up to 2050 mm / 6 units up to 2510 mm box length) integrated into the drop sides (only possible with 350 mm drop sides), tractive force 400 kg per lashing ring, Dekra-tested.


i
Humbaur multifunction lighting is integrated into the underride protection.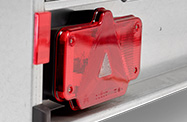 i
Corner stanchions with insert option
i
The steel grid attachment and the cover net are available as accessories. Shown is the steel grid attachment.
This one can do almost anything! The large selection of accessories allows you to equip the HA flatbed trailer for a wide range of applications. It transports your motorcycles, bicycles, garden tools and much more. The load is lashed down using the lashing brackets recessed in the aluminium drop sides to prevent it from sliding around.
V drawbar, hot-dip galvanised
13-pin plug and reversing light
Floor plate 15 mm thick
Drop sides made of aluminium profiles
Back flap with recessed locks
Flap with recessed locks (optional)
Tie-down rings integrated into the drop sides
Multifunction lighting
Corner stanchions with insert option
Steel grid attachment, cover net (optional)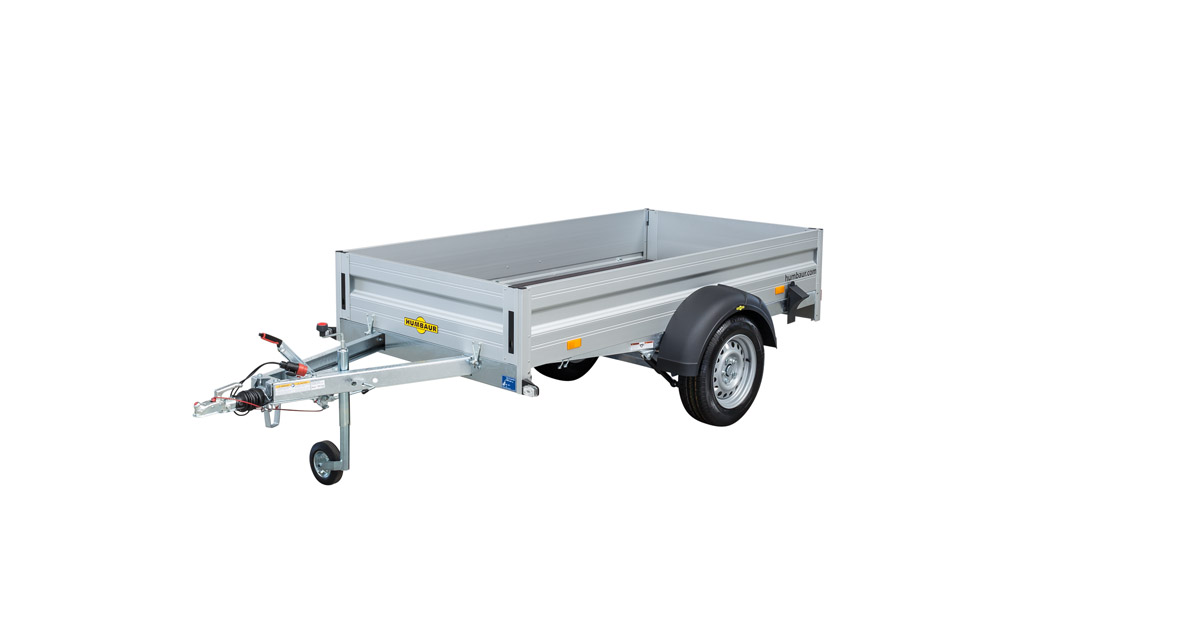 360° view
Technical data
Single axle aluminium HA
Inner height

350 mm
Total height

862 mm
Inner length

1.650 mm
Total length

2.676 mm
Inner width

1.100 mm
Total width

1.549 mm
Single axle aluminium HA Standard equipment
Hot-dip galvanised v-shaped coupling
13-pin plug, for max. gross above 751 kg with reversing light
15 mm thick base plate
Side panels and gates made of double-walled anodised aluminium
Flap(s) with sunk-in closings
Lashing rings (4 units up to 2050 mm box length, 6 units for 2510 mm box length and above) integrated in side panel profiles, traction force 400 kg per lashing ring, DEKRA tested
Humbaur multifuntional light integrated in underride barrier
Corner stanchions with plug-in option
Single axle aluminium HA

Models

Permissible gross weight in kg

1300

1500

750

750

750

1000

750

1000

750

750

750

750

1000

750

1300

750

1300

1500

1500

750

Load capacity in kg

1020

1209

625

562

610

822

610

822

581

602

566

551

775

602

1044

585

1063

1253

1244

625

Body dimensions in mm (LxWxH)

4320 x 2004 x 935

4320 x 2004 x 940

2676 x 1549 x 864

2826 x 1564 x 892

3019 x 1552 x 864

3232 x 1564 x 892

3019 x 1552 x 864

3232 x 1564 x 892

3566 x 1757 x 862

2982 x 1757 x 862

2826 x 1564 x 892

3238 x 1774 x 891

3238 x 1774 x 891

2982 x 1757 x 862

3794 x 1806 x 901

3566 x 1757 x 862

3798 x 1805 x 901

3797 x 1811 x 901

3797 x 1811 x 901

2676 x 1552 x 864

Internal dimensions in mm (LxWxH)

3030 x 1500 x 350

3030 x 1500 x 350

1650 x 1100 x 350

1650 x 1100 x 350

2050 x 1100 x 350

2050 x 1100 x 350

2050 x 1100 x 350

2050 x 1100 x 350

2510 x 1310 x 350

2050 x 1310 x 350

1650 x 1100 x 350

2050 x 1310 x 350

2050 x 1310 x 350

2050 x 1310 x 350

2510 x 1310 x 350

2510 x 1310 x 350

2510 x 1310 x 350

2510 x 1310 x 350

2510 x 1310 x 350

1650 x 1100 x 350

braked

✓

✓

-

✓

-

✓

-

✓

-

-

✓

✓

✓

-

✓

-

✓

✓

✓

-

Load height in mm

585

590

510

510

510

525

510

525

510

510

510

530

530

510

530

510

530

530

530

510

Tyre size in inches

15

14

13

13

13

13

13

13

13

13

13

13

13

13

14

13

14

13

13

13
Permissible gross weight in kg
1300
braked
Body dimensions in mm (LxWxH)
4320 x 2004 x 935
Tyre size in inches
15
Internal dimensions in mm (LxWxH)
3030 x 1500 x 350
Load capacity in kg
1020
Permissible gross weight in kg
1500
braked
Body dimensions in mm (LxWxH)
4320 x 2004 x 940
Tyre size in inches
14
Internal dimensions in mm (LxWxH)
3030 x 1500 x 350
Load capacity in kg
1209
Permissible gross weight in kg
750
braked
Body dimensions in mm (LxWxH)
2676 x 1549 x 864
Tyre size in inches
13
Internal dimensions in mm (LxWxH)
1650 x 1100 x 350
Load capacity in kg
625
Permissible gross weight in kg
750
braked
Body dimensions in mm (LxWxH)
2826 x 1564 x 892
Tyre size in inches
13
Internal dimensions in mm (LxWxH)
1650 x 1100 x 350
Load capacity in kg
562
Permissible gross weight in kg
750
braked
Body dimensions in mm (LxWxH)
3019 x 1552 x 864
Tyre size in inches
13
Internal dimensions in mm (LxWxH)
2050 x 1100 x 350
Load capacity in kg
610
Permissible gross weight in kg
1000
braked
Body dimensions in mm (LxWxH)
3232 x 1564 x 892
Tyre size in inches
13
Internal dimensions in mm (LxWxH)
2050 x 1100 x 350
Load capacity in kg
822
Permissible gross weight in kg
750
braked
Body dimensions in mm (LxWxH)
3019 x 1552 x 864
Tyre size in inches
13
Internal dimensions in mm (LxWxH)
2050 x 1100 x 350
Load capacity in kg
610
Permissible gross weight in kg
1000
braked
Body dimensions in mm (LxWxH)
3232 x 1564 x 892
Tyre size in inches
13
Internal dimensions in mm (LxWxH)
2050 x 1100 x 350
Load capacity in kg
822
Permissible gross weight in kg
750
braked
Body dimensions in mm (LxWxH)
3566 x 1757 x 862
Tyre size in inches
13
Internal dimensions in mm (LxWxH)
2510 x 1310 x 350
Load capacity in kg
581
Permissible gross weight in kg
750
braked
Body dimensions in mm (LxWxH)
2982 x 1757 x 862
Tyre size in inches
13
Internal dimensions in mm (LxWxH)
2050 x 1310 x 350
Load capacity in kg
602
Permissible gross weight in kg
750
braked
Body dimensions in mm (LxWxH)
2826 x 1564 x 892
Tyre size in inches
13
Internal dimensions in mm (LxWxH)
1650 x 1100 x 350
Load capacity in kg
566
Permissible gross weight in kg
750
braked
Body dimensions in mm (LxWxH)
3238 x 1774 x 891
Tyre size in inches
13
Internal dimensions in mm (LxWxH)
2050 x 1310 x 350
Load capacity in kg
551
Permissible gross weight in kg
1000
braked
Body dimensions in mm (LxWxH)
3238 x 1774 x 891
Tyre size in inches
13
Internal dimensions in mm (LxWxH)
2050 x 1310 x 350
Load capacity in kg
775
Permissible gross weight in kg
750
braked
Body dimensions in mm (LxWxH)
2982 x 1757 x 862
Tyre size in inches
13
Internal dimensions in mm (LxWxH)
2050 x 1310 x 350
Load capacity in kg
602
Permissible gross weight in kg
1300
braked
Body dimensions in mm (LxWxH)
3794 x 1806 x 901
Tyre size in inches
14
Internal dimensions in mm (LxWxH)
2510 x 1310 x 350
Load capacity in kg
1044
Permissible gross weight in kg
750
braked
Body dimensions in mm (LxWxH)
3566 x 1757 x 862
Tyre size in inches
13
Internal dimensions in mm (LxWxH)
2510 x 1310 x 350
Load capacity in kg
585
Permissible gross weight in kg
1300
braked
Body dimensions in mm (LxWxH)
3798 x 1805 x 901
Tyre size in inches
14
Internal dimensions in mm (LxWxH)
2510 x 1310 x 350
Load capacity in kg
1063
Permissible gross weight in kg
1500
braked
Body dimensions in mm (LxWxH)
3797 x 1811 x 901
Tyre size in inches
13
Internal dimensions in mm (LxWxH)
2510 x 1310 x 350
Load capacity in kg
1253
Permissible gross weight in kg
1500
braked
Body dimensions in mm (LxWxH)
3797 x 1811 x 901
Tyre size in inches
13
Internal dimensions in mm (LxWxH)
2510 x 1310 x 350
Load capacity in kg
1244
Permissible gross weight in kg
750
braked
Body dimensions in mm (LxWxH)
2676 x 1552 x 864
Tyre size in inches
13
Internal dimensions in mm (LxWxH)
1650 x 1100 x 350
Load capacity in kg
625
Technical data
HA Allrounder
Inner height

400 mm
Total height

974 mm
Inner length

2.510 mm
Total length

3.802 mm
Inner width

1.310 mm
Total width

1.806 mm
HA Allrounder Standard equipment
Hot-dip galvanised v-shaped coupling
13-pin plug, for max. gross above 751 kg with reversing light
15 mm thick base plate
Side panels and gates made of double-walled anodised aluminium
Flap(s) with sunk-in closings
Lashing rings (4 units up to 2050 mm box length, 6 units for 2510 mm box length and above) integrated in side panel profiles, traction force 400 kg per lashing ring, DEKRA tested
Humbaur multifuntional light integrated in underride barrier
Corner stanchions with plug-in option
HA Allrounder

Models

Permissible gross weight in kg

1300

Body dimensions in mm (LxWxH)

3802 x 1806 x 974

Internal dimensions in mm (LxWxH)

2510 x 1310 x 400
Permissible gross weight in kg
1300
braked
Body dimensions in mm (LxWxH)
3802 x 1806 x 974
Tyre size in inches
14
Internal dimensions in mm (LxWxH)
2510 x 1310 x 400
Load capacity in kg
1011