With 500 mm sides HA 500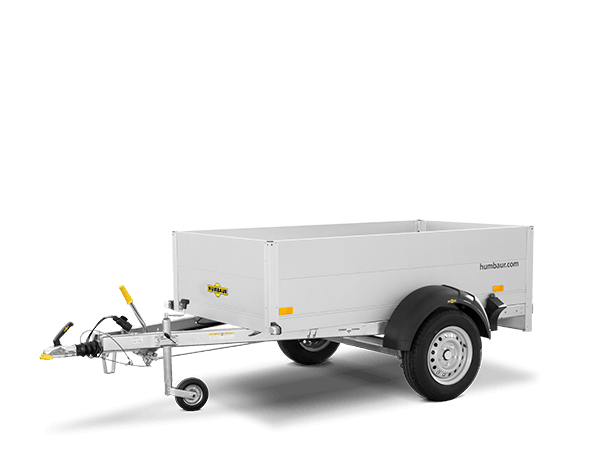 Plenty of space
and more protection on the sides
i
V drawbar, hot-dip galvanised
i
13-pin plug and reversing light
i
Drop sides made of anodised, double-walled aluminium profiles.
i
Back flap with recessed locks.
i
Flap with recessed locks (optional)
i
Tie-down rings (4 units up to 2050 mm / 6 units up to 2510 mm box length) integrated into the drop sides (only possible with 350 mm drop sides), tractive force 400 kg per lashing ring, Dekra-tested.


i
Humbaur multifunction lighting is integrated into the underride protection.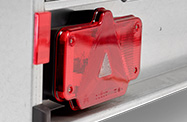 i
Corner stanchions with insert option
V drawbar, hot-dip galvanised
13-pin plug and reversing light
Floor plate 15 mm thick
Drop sides made of aluminium profiles
Back flap with recessed locks
Flap with recessed locks (optional)
Tie-down rings integrated into the drop sides
Multifunction lighting
Corner stanchions with insert option
Technical data
Aluminium, sides 500 mm
Inner height

500 mm
Total height

1.011 mm
Inner length

1.650 mm
Total length

2.677 mm
Inner width

1.100 mm
Total width

1.547 mm
Aluminium, sides 500 mm Standard equipment
Universally usable trailer
Hot-dip galvanised v-shaped coupling
Side panels and gates made of double-walled anodised aluminium with 500 mm in series
Guaranteed safe loading and unloading of the cargo
Lashing rings integrated in sideboard profiles, traction force 400 kg per ring, DEKRA tested
Jockey wheel (depends on model)
Back flap with sunk-in closings
13-pin plug, for max. gross above 751 kg with reversing light
Aluminium, sides 500 mm

Models

Permissible gross weight in kg

750

750

1300

750

1000

1000

750

750

Load capacity in kg

605

552

1043

598

785

788

589

565

Body dimensions in mm (LxWxH)

2677 x 1547 x 1011

2826 x 1564 x 1040

3798 x 1805 x 1049

3016 x 1547 x 1011

3228 x 1564 x 1040

3237 x 1774 x 1040

2980 x 1757 x 1012

3566 x 1757 x 1012

Internal dimensions in mm (LxWxH)

1650 x 1100 x 500

1650 x 1100 x 500

2510 x 1310 x 500

2050 x 1100 x 500

2050 x 1100 x 500

2050 x 1310 x 500

2050 x 1310 x 500

2510 x 1310 x 500

Load height in mm

510

510

530

510

525

530

510

510

Tyre size in inches

13

13

14

13

13

13

13

13
Permissible gross weight in kg
750
braked
Body dimensions in mm (LxWxH)
2677 x 1547 x 1011
Tyre size in inches
13
Internal dimensions in mm (LxWxH)
1650 x 1100 x 500
Load capacity in kg
605
Permissible gross weight in kg
750
braked
Body dimensions in mm (LxWxH)
2826 x 1564 x 1040
Tyre size in inches
13
Internal dimensions in mm (LxWxH)
1650 x 1100 x 500
Load capacity in kg
552
Permissible gross weight in kg
1300
braked
Body dimensions in mm (LxWxH)
3798 x 1805 x 1049
Tyre size in inches
14
Internal dimensions in mm (LxWxH)
2510 x 1310 x 500
Load capacity in kg
1043
Permissible gross weight in kg
750
braked
Body dimensions in mm (LxWxH)
3016 x 1547 x 1011
Tyre size in inches
13
Internal dimensions in mm (LxWxH)
2050 x 1100 x 500
Load capacity in kg
598
Permissible gross weight in kg
1000
braked
Body dimensions in mm (LxWxH)
3228 x 1564 x 1040
Tyre size in inches
13
Internal dimensions in mm (LxWxH)
2050 x 1100 x 500
Load capacity in kg
785
Permissible gross weight in kg
1000
braked
Body dimensions in mm (LxWxH)
3237 x 1774 x 1040
Tyre size in inches
13
Internal dimensions in mm (LxWxH)
2050 x 1310 x 500
Load capacity in kg
788
Permissible gross weight in kg
750
braked
Body dimensions in mm (LxWxH)
2980 x 1757 x 1012
Tyre size in inches
13
Internal dimensions in mm (LxWxH)
2050 x 1310 x 500
Load capacity in kg
589
Permissible gross weight in kg
750
braked
Body dimensions in mm (LxWxH)
3566 x 1757 x 1012
Tyre size in inches
13
Internal dimensions in mm (LxWxH)
2510 x 1310 x 500
Load capacity in kg
565