Humbaur HU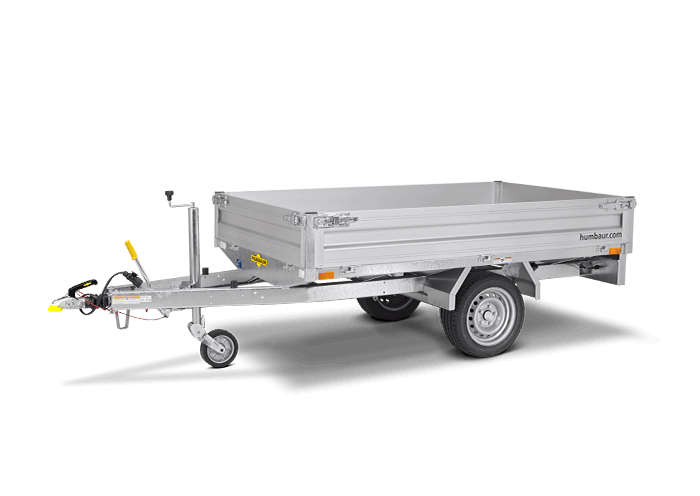 The HU single-axle high loader
convinces through durability and quality
i
Chassis welded and hot-dip galvanised.
i
Drop-sides 300 mm, foldable and removable
i
Pull rod locks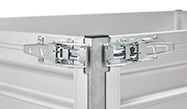 i
Conical stanchions, removable.
i
Humbaur multifunction lighting integrated into underride protection.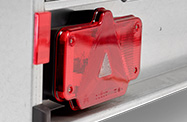 i
V-groove external frame with 2 pairs of sunken lashing points.
i
The Soft-Dock has a soft, cushioning surface that provides optimal damage protection for the rear of the vehicle.
This one can do almost anything! The large selection of accessories allows you to equip the HA flatbed trailer for a wide range of applications. It transports your motorcycles, bicycles, garden tools and much more. The load is lashed down using the lashing brackets recessed in the aluminium drop sides to prevent it from sliding around.
Chassis welded and hot-dip galvanised
Floor plate 15 mm thick
Drop-sides 300 mm, foldable and removable
Pull rod locks
Conical stanchions, removable
Jockey wheel
Multifunction lighting integrated into underride protection
V-groove external frame with 2 pairs of sunken lashing points
All unbraked trailers with a ball head coupling with Soft-Dock as standard
Technical data
Single axle wheels in HU
Inner height

300 mm
Total height

955 mm
Inner length

2.300 mm
Total length

3.535 mm
Inner width

1.400 mm
Total width

1.535 mm
Single axle wheels in HU Standard equipment
Hot-dip galvanised v-shaped coupling combined with longitudinal beam
Hot-dip galvanised chassis and frame
13-pin plug, for max. gross above 751 kg with reversing light
15 mm thick base plate
Completely removable platform gates made from anodised aluminium with pull tie closings
Lashing eyes in outer frame section
Jockey wheel
Humbaur multifuntional lights integrated in underride barrier
Corner stanchions with plug-in option
Single axle wheels in HU

Models

Body dimensions in mm (LxWxH)

3535 x 1535 x 988

3580 x 1535 x 955

3580 x 1535 x 955

Internal dimensions in mm (LxWxH)

2300 x 1400 x 300

2300 x 1400 x 300

2300 x 1400 x 300

Load height in mm

690

655

655

Tyre size in inches

13

13

13
Permissible gross weight in kg
750
braked
Body dimensions in mm (LxWxH)
3535 x 1535 x 988
Tyre size in inches
13
Internal dimensions in mm (LxWxH)
2300 x 1400 x 300
Load capacity in kg
520
Permissible gross weight in kg
1300
braked
Body dimensions in mm (LxWxH)
3580 x 1535 x 955
Tyre size in inches
13
Internal dimensions in mm (LxWxH)
2300 x 1400 x 300
Load capacity in kg
1010
Permissible gross weight in kg
1500
braked
Body dimensions in mm (LxWxH)
3580 x 1535 x 955
Tyre size in inches
13
Internal dimensions in mm (LxWxH)
2300 x 1400 x 300
Load capacity in kg
1210