Trailer /
Single axle wheels in low HN
Wheels-in low HN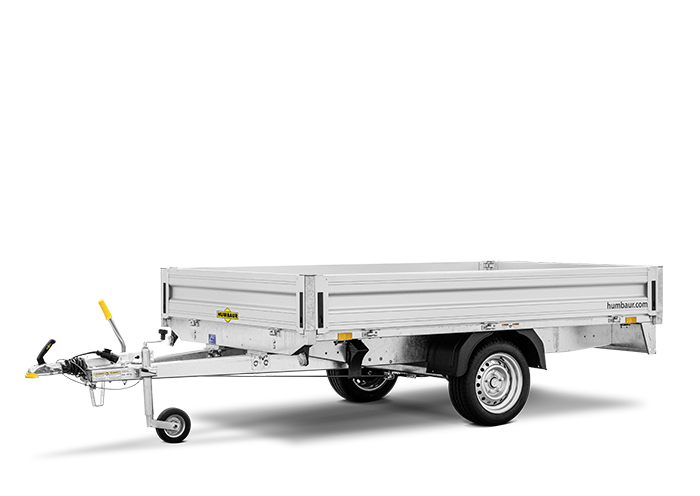 The specialist
with a low load height and high versatility
i
V drawbar, hot-dip galvanised
i
13-pin plug and reversing light
i
Drop sides made of anodised, double-walled aluminium profile with recessed fasteners - can be completely removed.
i
4 pcs. tie-down rings integrated into outer V-frame profile, tractive force 400 kg per tie-down ring, Dekra-tested.
i
Humbaur multifunction lighting is integrated into the underride protection.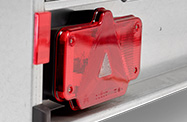 i
Corner stanchions with insert option
Practical and well-designed: With the drop sides folded down you can load your goods onto the HN wheels-in trailer simply using a forklift truck. Its low loading height makes handling easier for you. The lashing rings on our trailers can withstand tensile forces of 400 kg. This allows you to transport even heavy loads safely. This has been verified by DEKRA.
V drawbar, hot-dip galvanised
Low frame construction
13-pin plug and reversing light
Floor plate 18 mm thick
Drop sides made of anodised, double-walled aluminium profile
4 pcs. tie-down rings integrated into outer V-frame profile
Jockey wheel
Multifunction lighting
Corner stanchions with insert option
Technical data
Single axle wheels in low HN
Inner height

300 mm
Total height

930 mm
Inner length

2.650 mm
Total length

3.920 mm
Inner width

1.650 mm
Total width

1.713 mm
Single axle wheels in low HN Standard equipment
Hot-dip galvanised v-shaped coupling
Especially low framework and loading hight
13-pin plug with reversing light
18 mm floor plate
Side panels and gates made of double-walled anodised aluminium, completely detachable
Lashing rings (4 units) integrated in dropsides, traction force 400 kg per ring, DEKRA tested
Jockey wheel
Single axle wheels in low HN

Models
Permissible gross weight in kg
1300
braked
Body dimensions in mm (LxWxH)
3920 x 1713 x 930
Tyre size in inches
13
Internal dimensions in mm (LxWxH)
2650 x 1650 x 300
Load capacity in kg
962
Permissible gross weight in kg
1500
braked
Body dimensions in mm (LxWxH)
3920 x 1713 x 930
Tyre size in inches
13
Internal dimensions in mm (LxWxH)
2650 x 1650 x 300
Load capacity in kg
1152