3-Way Tipper HTK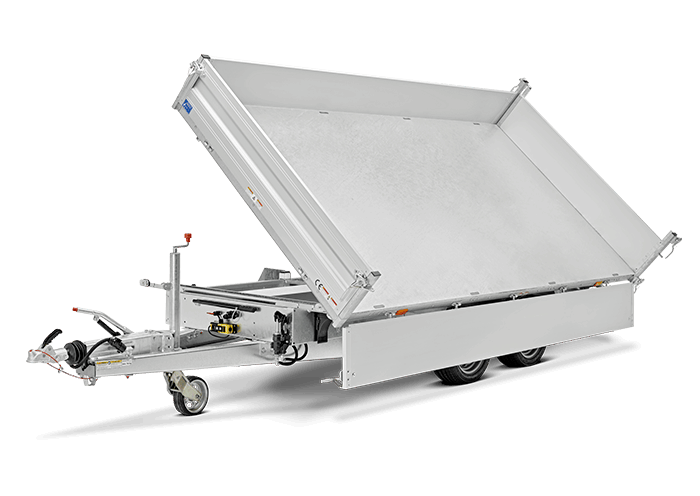 Humbaur HTK
It is indestructible, flexible and really gets the work done!
i
V drawbar screwed to welded frame construction, hot-dip galvanised by immersion bath.
i
Chassis and tipping platform hot-dip galvanised by immersion bath.
i
Tipping platform made from a single piece of steel.
i
4-step, hard-chromed tilting cylinder
i
Manual pump, optional electric hydraulic pump; electric and manual pump from 3,000 kg permissible gross weight.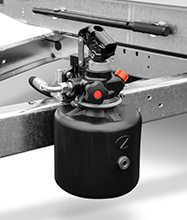 i
Humbaur multifunctional lighting
i
13-pin plug and reversing light
i
Drop sides made of anodised aluminium, completely removable.
i
Tie-rings integrated in the platform floor, pull force of 800 kg per tie-ring.
i
Ramp slot in preparation for aluminium ramp for easy retrofitting.
Its non-slip waterproof wooden floor and sturdy design make the Steely flatbed trailer a convincing proposal in the garden and on the building site. Elegant toggle-type fasteners keep the tailgate safely closed. Do you need a flatbed or raised tarpaulin? Fastening buttons are already pre-installed - you can retrofit one at any time.
The 3-way tipper HTK in detail:
V drawbar screwed to welded frame construction, hot-dip galvanised by immersion bath
Chassis and tipping platform hot-dip galvanised by immersion bath
Tipping platform made from a single piece of steel
4-step, hard-chromed tilting cylinder
Manual pump, optional electric hydraulic pump
Humbaur multifunctional lighting
13-pin plug and reversing light
Drop sides made of anodised aluminium, completely removable
Rear flap swingable
Tie-rings integrated in the platform floor, pull force of 800 kg per tie-ring
Automatic jockey wheel
Ramp slot in preparation for aluminium ramp for easy retrofitting
Technical data
3-Way tipper Alu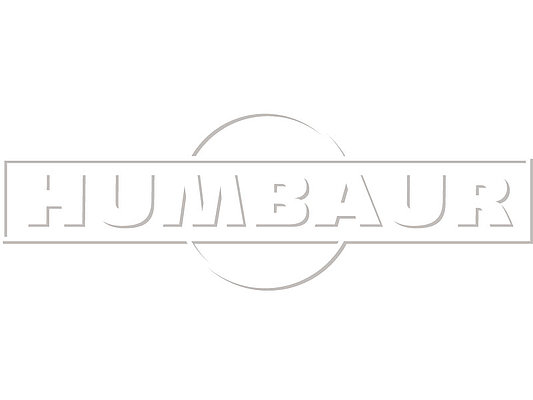 Inner height

350 mm
Total height

1.220 mm
Inner length

2.670 mm
Total length

4.070 mm
Inner width

1.500 mm
Total width

1.680 mm
3-Way tipper Alu Standard equipment
Hot-dip galvanised v-shaped coupling
Hot-dip galvanised chassis and tipping platform
Steel tipping platform manufactured in one piece
Hand pump or for maximum permissible weights of 3,000 kg and above, electric pump with hand pump
13-pin plug and reversing light
Completely removable platform gates made from anodised aluminium
Hinged rear flap
tie-rings mounted on the platform floor, traction force of 800 kg per tie-ring, approved by DEKRA
Jockey wheel
Plank shaft ready to hold aluminium ramps, for easy retrofitting
3-Way tipper Alu

Models

Permissible gross weight in kg

2000

2700

1800

2700

3000

3500

3000

3500

3500

3500

Load capacity in kg

1335

2025

1170

1840

2130

2550

2100

2485

2315

2250

Body dimensions in mm (LxWxH)

4070 x 1680 x 1220

4070 x 1680 x 1260

4070 x 1680 x 1260

4500 x 1930 x 1260

4500 x 1930 x 1260

4500 x 1930 x 1260

5026 x 2022 x 1251

5088 x 2023 x 1251

5712 x 2280 x 1240

5484 x 2280 x 1240

Internal dimensions in mm (LxWxH)

2670 x 1500 x 350

2670 x 1500 x 350

2670 x 1500 x 350

3140 x 1750 x 350

3140 x 1750 x 350

3140 x 1750 x 350

3630 x 1855 x 350

3630 x 1855 x 350

4100 x 2100 x 350

4100 x 2100 x 350

Load height in mm

750

725

775

745

745

760

745

760

760

750

Tyre size in inches

13

13

13

13

13

13

13

13

13

13
Permissible gross weight in kg
2000
braked
Body dimensions in mm (LxWxH)
4070 x 1680 x 1220
Tyre size in inches
13
Internal dimensions in mm (LxWxH)
2670 x 1500 x 350
Load capacity in kg
1335
Permissible gross weight in kg
2700
braked
Body dimensions in mm (LxWxH)
4070 x 1680 x 1260
Tyre size in inches
13
Internal dimensions in mm (LxWxH)
2670 x 1500 x 350
Load capacity in kg
2025
Permissible gross weight in kg
1800
braked
Body dimensions in mm (LxWxH)
4070 x 1680 x 1260
Tyre size in inches
13
Internal dimensions in mm (LxWxH)
2670 x 1500 x 350
Load capacity in kg
1170
Permissible gross weight in kg
2700
braked
Body dimensions in mm (LxWxH)
4500 x 1930 x 1260
Tyre size in inches
13
Internal dimensions in mm (LxWxH)
3140 x 1750 x 350
Load capacity in kg
1840
Permissible gross weight in kg
3000
braked
Body dimensions in mm (LxWxH)
4500 x 1930 x 1260
Tyre size in inches
13
Internal dimensions in mm (LxWxH)
3140 x 1750 x 350
Load capacity in kg
2130
Permissible gross weight in kg
3500
braked
Body dimensions in mm (LxWxH)
4500 x 1930 x 1260
Tyre size in inches
13
Internal dimensions in mm (LxWxH)
3140 x 1750 x 350
Load capacity in kg
2550
Permissible gross weight in kg
3000
braked
Body dimensions in mm (LxWxH)
5026 x 2022 x 1251
Tyre size in inches
13
Internal dimensions in mm (LxWxH)
3630 x 1855 x 350
Load capacity in kg
2100
Permissible gross weight in kg
3500
braked
Body dimensions in mm (LxWxH)
5088 x 2023 x 1251
Tyre size in inches
13
Internal dimensions in mm (LxWxH)
3630 x 1855 x 350
Load capacity in kg
2485
Permissible gross weight in kg
3500
braked
Body dimensions in mm (LxWxH)
5712 x 2280 x 1240
Tyre size in inches
13
Internal dimensions in mm (LxWxH)
4100 x 2100 x 350
Load capacity in kg
2315
Permissible gross weight in kg
3500
braked
Body dimensions in mm (LxWxH)
5484 x 2280 x 1240
Tyre size in inches
13
Internal dimensions in mm (LxWxH)
4100 x 2100 x 350
Load capacity in kg
2250