Tandem rear tipper HUK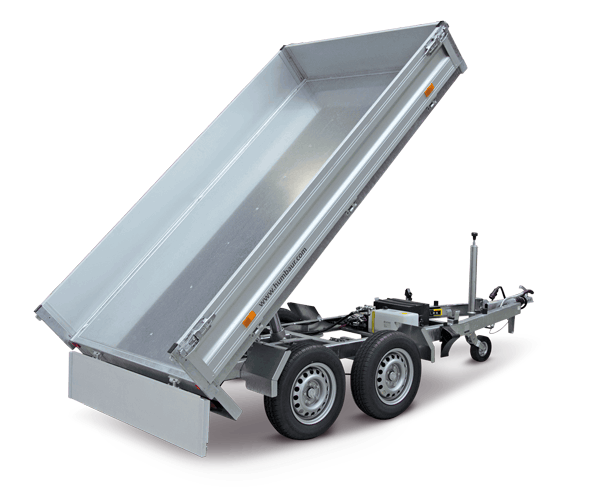 The reliable tipping trailer
for bulk material and other applications
i
Chassis and tipping platform are welded and hot-dip galvanised by immersion bath.
i
Galvanised platform floor
i
Drop sides 300 mm, folding on all sides.
i
Manual pump, optional electric hydraulic pump.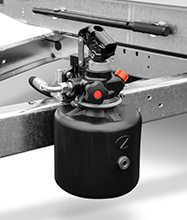 i
Pull rod locks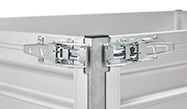 i
Conical stanchions, removable.
i
3-step telescopic cylinder with manual pump.

i
V-groove outer frame with recessed tie-down brackets.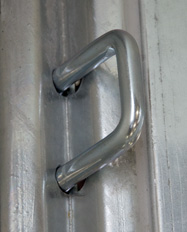 i
Lighting integrated in the underride protection.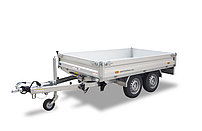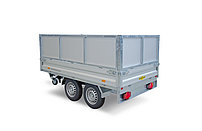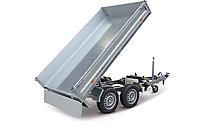 The HUK rear tippers are available as single axle or tandem-axle models. These trailers are characterised particularly by the galvanised bridge plate with outer frame V-groove and recessed tie-down rings. The tipping angle is 45 degrees. All of the models can be retrofitted with the electric pump and grid attachment and aluminium side wall panels.
Tandem rear tipper HUK in detail:
Chassis and tipping platform are welded and hot-dip galvanised by immersion bath
Galvanised platform floor
Drop sides 300 mm, folding on all sides
Manual pump, optional electric hydraulic pump
Pull rod locks
Conical stanchions, removable
3-step telescopic cylinder with manual pump
V-groove outer frame with recessed tie-down brackets
Lighting integrated in the underride protection
Automatic jockey wheel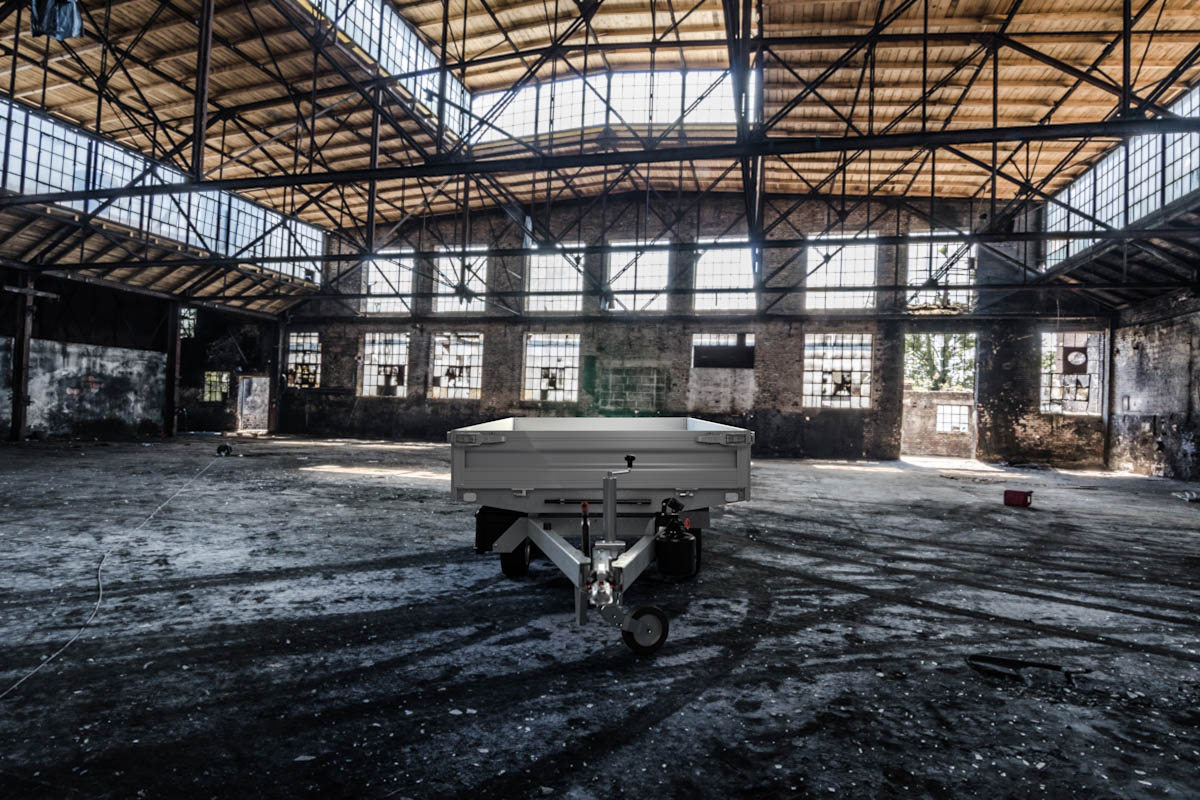 360° view
Technical data
Rear tipper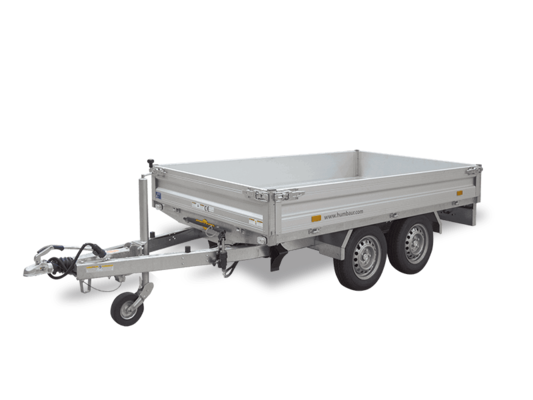 Inner height

300 mm
Total height

950 mm
Inner length

2.680 mm
Total length

4.160 mm
Inner width

1.500 mm
Total width

1.640 mm
Rear tipper Standard equipment
Chassis and tipping platform welded andhot-dip galvanised
Galvanised platform floor (3 mm)
Drop-sides 300 mm high, folding down on all sides
Pull rod closures
Conic corner posts, removable
Three-step telescopic cylinder with manual pump
Automatic jockey wheel
Lighting protected by the underrun protection
V-slot external frame with of countersunk lashing points
Manual pump
Rear tipper

Models

Permissible gross weight in kg

2000

2700

2700

3000

Load capacity in kg

1470

2160

2015

2315

Body dimensions in mm (LxWxH)

4160 x 1640 x 980

4160 x 1640 x 950

4510 x 1890 x 970

4510 x 1890 x 970

Internal dimensions in mm (LxWxH)

2680 x 1500 x 300

2680 x 1500 x 300

3140 x 1750 x 300

3140 x 1750 x 300

Load height in mm

680

670

670

670

Tyre size in inches

13

13

13

13
Permissible gross weight in kg
2000
braked
Body dimensions in mm (LxWxH)
4160 x 1640 x 980
Tyre size in inches
13
Internal dimensions in mm (LxWxH)
2680 x 1500 x 300
Load capacity in kg
1470
Permissible gross weight in kg
2700
braked
Body dimensions in mm (LxWxH)
4160 x 1640 x 950
Tyre size in inches
13
Internal dimensions in mm (LxWxH)
2680 x 1500 x 300
Load capacity in kg
2160
Permissible gross weight in kg
2700
braked
Body dimensions in mm (LxWxH)
4510 x 1890 x 970
Tyre size in inches
13
Internal dimensions in mm (LxWxH)
3140 x 1750 x 300
Load capacity in kg
2015
Permissible gross weight in kg
3000
braked
Body dimensions in mm (LxWxH)
4510 x 1890 x 970
Tyre size in inches
13
Internal dimensions in mm (LxWxH)
3140 x 1750 x 300
Load capacity in kg
2315